The Google Analytics widget I used for a long time ceased to work in Dec 2011. Today I finally took the time to find a replacement. I've looked high and low, and GAget is the best Google Analytics widget for Apple Mac OS X.
Google Analytics on your Dashboard
Either you're a web developer, blogger or anyone with a website, you probably use Google Analytics to collect and process crucial data about your site's visitors.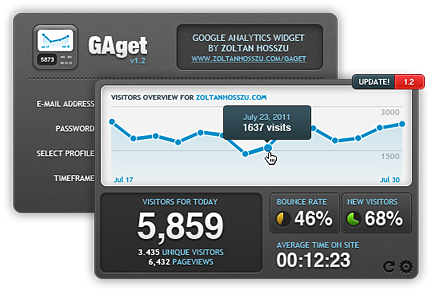 If you're using OS X you will love this dashboard widget!
Put Google Analytics on your Dashboard – Download GAget
Features
See the important information of the day without any clutter
Check out the number of your visits for the last two weeks
See the rate of new visitors and bouncers
Refresh data with one click or wait for the automatic refresh
Automaticaly check for updates
Easily switch between profiles
View one, two or four weeks' data
Change the chart between visitors, new visitors rate and bouncers rate
Want to support the developer?
You can buy him a cup of coffee
Related articles (from around the web)