A week or so ago I wrote about what I now consider to be the absolutely best Apple Address Book alternative I have ever seen and used. Put simply, it kicks butt. In fact it's the coolest address book app I've tried on Mac and Windows and Linux (although that's not to say I've tried them all).
This truly amazing little app—although BIG on features—is called Cobook. What's even more amazing is this kick-arse application is free. Since installing it I've ceased using Apple Address Book completely. I've not opened it even once, and I look up contacts multiple times a day. Now that I have Cobook I can see there is absolutely no hope for Apple Address Book ever making a return to my desktop. Of course, it sits there working away in the technological background as a database that syncs with Cobook, but it for sure no longer see the light of day.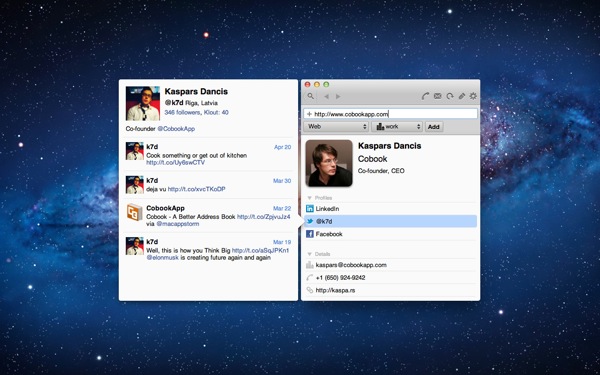 A beta release (version 1.1-beta8 [1222]) of Cobook came out since I wrote my original review, and the developer(s) have improved even more on what was already an excellent feature set. Taking a look at the What's New page on the developer's site will give a good overview of all the many features and enhancements going into this application. Right now the What's New page is not up-to-date (last updated on May 18th, as I write this on August 10th) but it's still worth checking out.
If I sound strangely excited about Cobook, please forgive me. I've been disappointed by Apple Address Book since I first laid eyes on it, and with OS X Lion I thought it got even worse in terms of looks, and no better in terms of features. I've looked at every Address Book alternative worth considering, and none of them seemed like a viable replacement to Address Book. Cobook has, thankfully, changed that. Unless Apple buy Cobook and merge it into OS X, I think I can safely say I'll never use "Apple Address Book" on my Mac again.
As for Mountain Lion compatibility, according to the official statement from the developer, Cobook is 100% compatible with Mountain Lion (OS X 10.8).
You can get Cobook here on the App Store. Or register for the beta versions here and get the latest features. I am using the beta (1.1.x) and have had no issues with the it so far.
What are other Mac Experts saying about Cobook?
Cobook takes away all the pain and makes organizing contacts a painless, even enjoyable task for the first time ever.
– Giles Turnbull, Cult of Mac