Fantastical is a great little menubar application for quick access to your calendar on Mac OS X. It also allows for creating new events and tasks using natural language.
Research online indicates some people had an issue whereby Fantastical keeps asking for their Google calendar password each time they start it, or even periodically after it is launched. I suspect this issue is the result of a signing problem on the application itself. That problem may be caused by people using a patched version of the application to circumvent its registration system (to pirate it). There may be other reasons for this issue to arise though. I can't be certain. Either way, here's the solution for this issue.
How to prevent Fantastical from asking for Google password more than once
Open Keychain Access (just type Keychain Access into Spotlight, and open it from there).
Type google.com into the search field.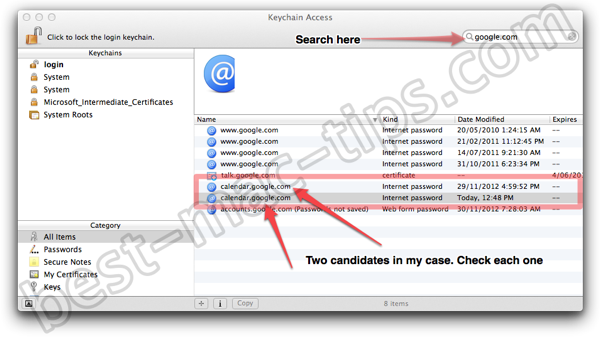 Look for a key named "calendar.google.com".
UPDATE: It seems that sometimes the key will be named www.google.com rather than calendar.google.com. If you have more than one account or multiple calendar applications, you might have to hunt around for the right entry.
There may be more than one if you have multiple calendar applications. Double click on each one and click on the Access Control button. Look for the one that allows access to Fantasical. Candidates
When you have found the correct one, select "Allow all applications to access this item"
Quit Fantastical. Launch it again and you should not be asked for your Google Calendar password.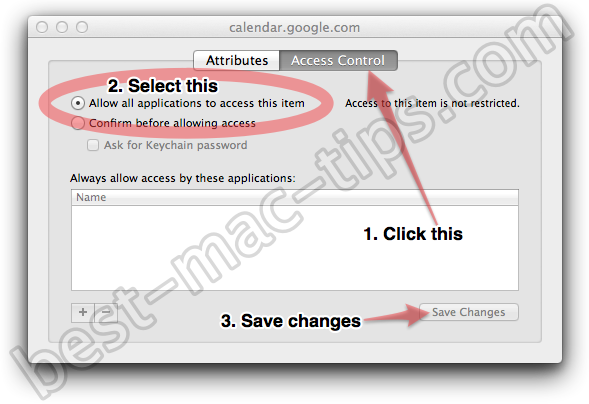 Important Note:
As Andrew has pointed out in the comments, this step does of course expose your Google password to all applications on your system. Personally, I have no issue with that. I assumed it went without saying that this would allow all apps to access you password, since we are indeed selecting "Allow all applications to access this item". It you don't want other applications to have access to your Google password without your knowing about it, I suggest you don't apply this tip.