Ever wanted to insert the command symbol into text you're writing up? That command symbol is this one: ⌘
Where's it hiding and how to we access it? Oddly Apple has made it increasing obscure to find. Here's how to find it on OS X Mountain Lion (10.8.x).
Finding and Inserting the Command Symbol
First, make sure you have the Character Viewer selector displaying in your menu bar. It will look something like this: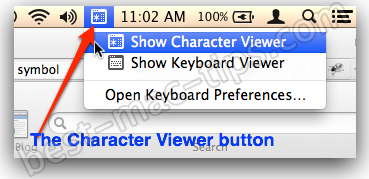 If you don't see it you'll need to turn it on. Go to System Preferences, and then go to Keyboard Preferences. Select Show Keyboard and Character Viewer in menu bar.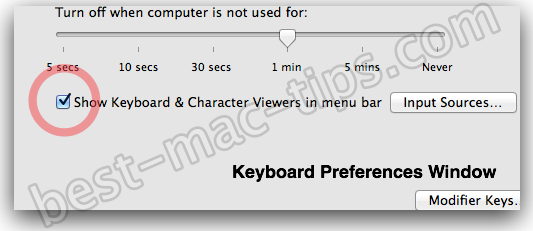 Now that you have the button showing in your menu bar, select it and select Show Character Viewer. The character map you need is called Technical Symbols. For some reason in Mountain Lion it is turned off by default. Like the little Preferences cog button and select Customize List…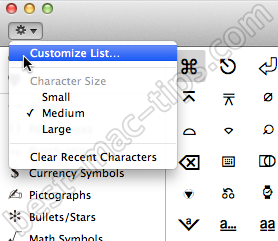 Turn on Technical Symbols and any other symbols and character maps you would like access to in the future.
The first symbol in the Technical Symbols map is the Command symbol ( ⌘ ). You may want to add it to favorites. You'll see the button Add to Favorites to the right of the Characters window, directly under the currently selected symbol.
That's it.
Another way to do it
There's another alternative. In the Keyboard Preferences window, select the Input Sources button. Add the Unicode input source. Just start typing Unicode into the search field at the bottom and it will filter out the other options. Tick the Unicode Hex Input option that is now displayed. In the Character Map viewer (which you've added to your menu bar already) you'll now see an additional Input option for Unicode.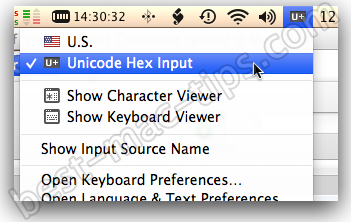 When that is selected you can type Unicodes directly into applications. The way to do that (in this case to insert the ⌘ symbol, is this: Type Option+2318 (hold down the Option key, and type in 2318). The command symbol will magically appear. Remember to return the input selector to your default language (U.S. in the picture shown above).
Automating insertion of Command symbol
If you have a text replacement application like Presto, TypeIt4Me, Typinator, Keyboard Maestro, or TextExpander you can easily set up a text replacement to insert the ⌘ symbol. If you don't have one of these applications, you can still easily use the text substitution system built into Mac OS X. Here's how:
Again bring up the Language & Text Preferences panel. Select the Text sub-panel. Ensure Use symbol and text substitution is selected. Click the + button and add a new substitution. I used [cmd] as the keyword. Make sure you select a combination you're never likely to type for any other reason (otherwise it will get rather frustrating as the ⌘ symbol will keep appearing. You could also use something shorter like !c! which is not something you're likely to ever type for another reason.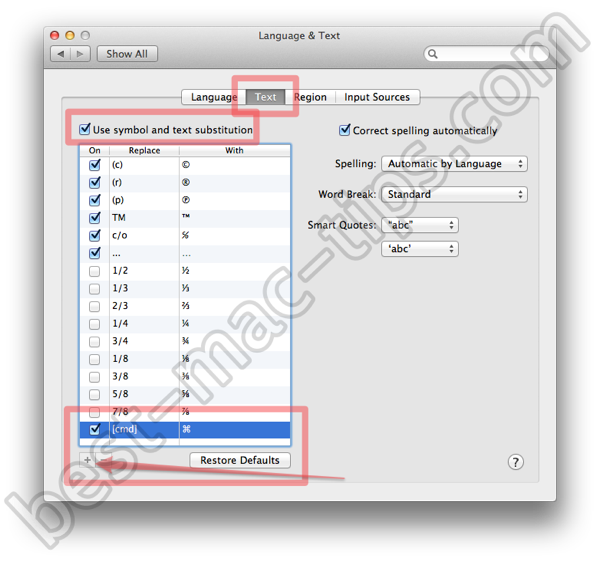 Any questions, just let me know.
If you want a fancy app for handling Unicode and special characters there's always PopChar X. It will set you back 30 EURO though, so it's probably overkill unless you work a lot with special characters.
Related articles (off site)