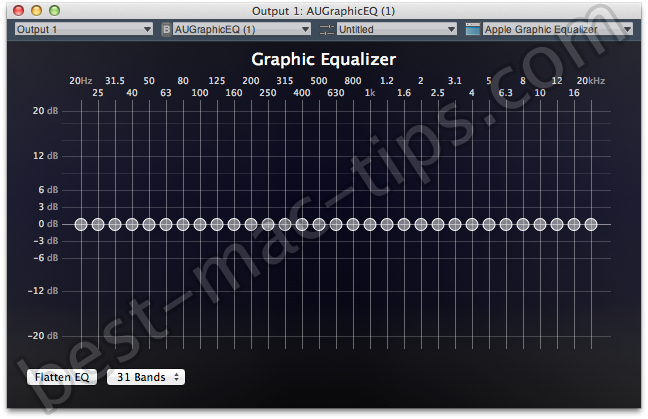 Recent versions of iTunes have at long last come out with an equalizer. Quite why Apple took so long to implement that is a mystery. But a bigger mystery still remains. [My mistake. Apparently iTunes has always had an EQ]
Why does an advanced operating system like OS X still not have a system-wide graphic equaliser for its audio output? Who knows…
Well, the strange thing is that it almost does. But it requires a developer tool to access it. The good news… the tool is free. If you don't want to fork out $$ for applications like Hear or Boom, here's the next best thing. If you like sound you're bound to like this.
Beyond Graphic Equalizing -Systemwide VST, AU, and IRs
If you're an audio technician or simply use audio editing and video editing software on your Mac, you likely have a bunch of audio effects plugins such as VST and AU and Impulse Response plug-ins. Ever wondered if you could apply these to your entire Mac system? Using the method below will allow you to do just that. You can apply your favorite Impulse Response, for instance, to your entire system. This transforms Mac OS X into a audio lovers dream.
Instructions
Obtaining the (free) software
Step 1
A) Download and install SoundFlower. It's free. SoundFlower adds virtual audio devices to your system. The developers describe it as a Free Inter-application Audio Routing Utility for Mac OS X. Make sure you download version 1.6.6b or higher for OS X 10.6 to 10.8. Here's a direct link to the downloads page on Google Code.
Once downloaded, install SoundFlower. You'll be prompted to restart your computer as part of the installation, so make sure you've finished up anything else you may have open which you're working on.
B) This step may require an developer account with Apple. If you don't have one, it's free to set one up. If you don't want to set one up, perhaps you'll be able to find the necessary developer tool online somewhere. With a developer account go to the Developer Downloads page. Search there for "AU Lab". Download the latest version.

Once downloaded, install AU Lab. It will go into the /Applications/Utilities folder so you'll probably be asked to enter your password when  you drag the application in the DMG file to the Utilities alias.
Setting it all up
Step 2
Change the sound output device by going to System Preferences > Sound. Select the Output tab. You;ll see Soundflower (2ch) in the list of devices. Select that one.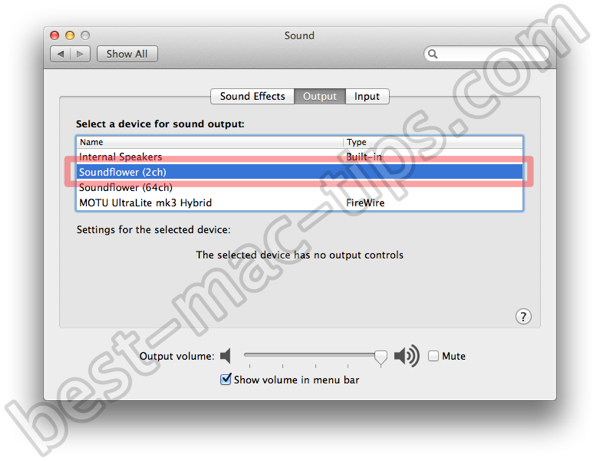 Step 3
Search for AU Lab using Spotlight. It should show up there. Otherwise locate it in Finder.
If you installed the entire Xcode developer package: Pull up Finder and hit Shift-Command-G then paste /Developer/Applications/Audio/ into the Go to the folder: dialogue. Double click AU Lab.app to run it.
If you only installed the AU Lab app it should be located in /Applications/Utilities/. Either way, Spotlight should find it for you without you needing to bother about where it is located.
Step 4 – Setup Input and Output devices in AU Lab
Note that if you work with audio production on your Mac, AU Lab is going to go through all your AU plugins and validate them. Any that don't validate properly might cause AU Lab to crash (with a message telling you which plugin it was using when it crashed). If you hit reopen the same plug-in will likely crash it again. Unfortunately AU Lab does not appear to have the feature of ignoring bad AU plug-ins. In this situation what you'll need to do is locate the bad plugin and either delete it or temporarily disable it. It should be located in:

/Library/Audio/Plug-Ins/Components

You could disable it by moving the plugin to another location. Since you'll likely want to use AU Lab every time you start your computer, it will be best to delete the offending plug-in. If it is one you depend on and use in your audio production work I suggest contacting the developer and telling them about the issues it has. Also check if they have an updated version. When deliberating on whether or not to delete a bad plug-in keep in mind that ever if you audio product applications load the plug-in successfully, there's a high chance any plug-ins AU Lab crashes when loading will introduce an element of instability to your DAW or audio production software. If you don't need'em, dump'em.
AU Lab will prompt you with a "Document Configuration" window.
Under Factory Configuration (in the left sidebar) select "Stereo In/Stereo Out". (it's probably selected already)
On the pane to the right, change the Audio Input Device to "Soundflower (2ch)". Change the Audio Output Device to "Built-in Output" (or any other audio out devices you may have which you wish to use, such as an audio controller you have wired through to speakers* [see note below]). I my case I set that to Motu UltraLite mk3, as that's the audio controller I use for my system. But most people will just be using the built in speakers (Built-in Output).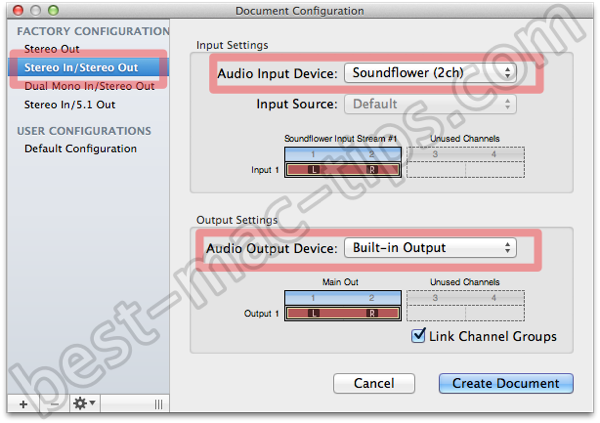 Click the Create Document button.
Step 5a
You'll now be looking at a rather bland grey window. You'll see a column or panel called Output 1. Select the Effect called Apple > AUGraphicEQ as shown in the screen shot.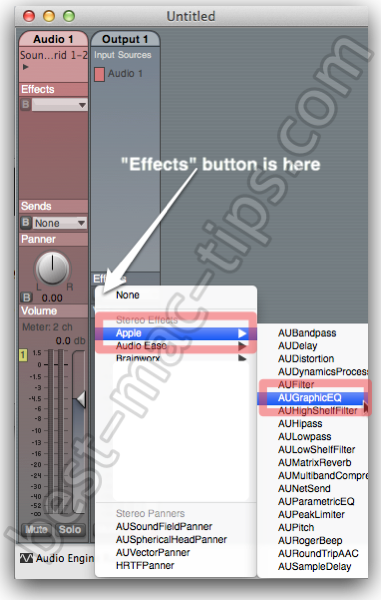 Note that if you have other audio unit plug-ins installed it is now possible to apply them to your whole system. You might even have other EQs you like better than the Apple one. Feel free to use it. You could also add a little reverb to your music, or whatever takes your fancy.
What you now see is your system-wide graphic equalizer. Congratulations. The trick now is to adjust it to your liking. You can use the default 31 band EQ or change it to a 10 band EQ.
Save your changes
You'll see four drop-downs in the Graphic EQ window. The third one is for saving and accessing presets. Save your changes here for accessing later.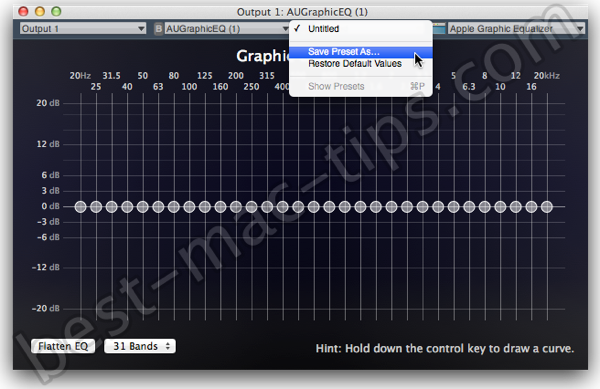 Step 5b
Once you have everything set up to your liking, you'll alway want to save the Document Configuration you have created. This will save the entire setup (the input source, output device, and the audio plug-ins you've added for effects).
Just to to File > Save after you've got this Config the way you want. Give it a name that allows you to easily know what it is. You might end up creating more than one of these, so give it a name that tells you what it is. For instance, you may have one configuration for playing movies through your movie sound system, another for playing music, and even different configurations for different styles of music… adding reverb to some, a nice Chamber Concert hall Impulse Response to another, and deep base to something else. All of these configurations can be saved and reaccessed when you need them.
Step 6 – Making it start-up on boot
You'll likely want this to be running by default, when you start your computer. If AU Lab the graphic equalizer effects will not work. Of course you can start AU Lab manually each time you want to apply the EQ. Your choice.
Go to System Preferences > Users & Groups. Select your user account in the left panel, and select the Login Items button on the right panel. Add the AU Lab application to your list of applications to start on bootup. It's pretty self explanitory.
Remember you can use the Shift-Command-G command in any file/Finder dialogue. So after you have clicked the + button, just hit Shift-Command-G and paste in /Developer/Applications/Audio/. Then select AU Lab.app. That path only applies if you installed the entire developer package. If you only installed AU Lab then it will be located in ~/Applications/Utilities/
You can probably just type AU Lab into the search field too, and Finder will take you right there.
Tick the Hide box next to AU Lab once you have added it.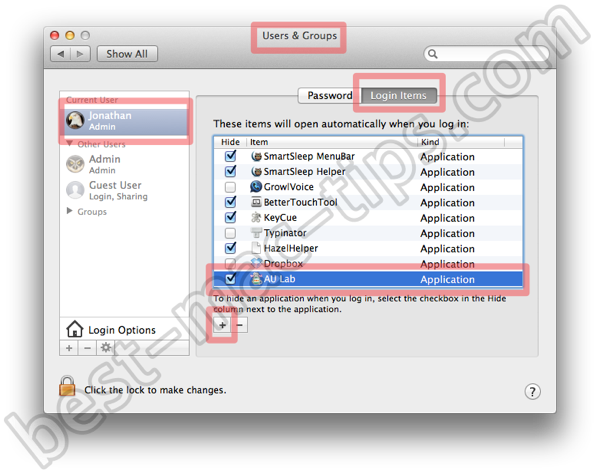 That's it, you're all done. Enjoy the new sound control.
Tips and tricks
1) If you have multiple sound outputs there's a chance you'll want to change which one AU Lab is routing to. To do this select Shift-⌘-I (or select Window > Show Studio.
2) Also check the Preferences for AU Lab. For instance, in Preferences > Document you can select which Document Configuration you want it to load on start-up, and also which audio output device you want selected by default. Take a look around and see if any of these preferences are useful to you. You can even give it a new colour scheme if the default colours are not to your liking.
3) * NOTE ABOUT EXTERNAL AUDIO INTERFACES: You may find the AU Lab effects are not applied when you route the sound output to your external audio interface. There is a way to resolve that. The issue is that when you select your external audio interface as the output AU Labs will display and make avaialble the channels available on your output device. This may mean that the correct channels on Input are no longer selected. So you need to move the Input channels over to a setting I can't actually read on my computer, but the image below will show you what I am referring to. I am assuming the channel position labels (in my case) read Speaker 1 and Speaker 2.