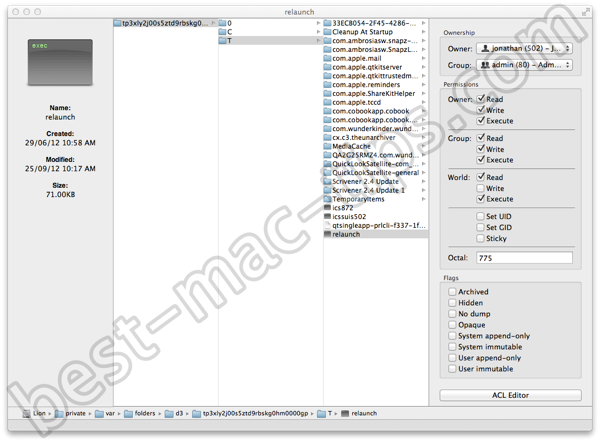 As a general Mac user, hopefully you'll never need to get into manually fixing permissions and ACL settings on files buried in your Mac OS. But if you do, what are the options?
There are plenty of instructions on the Internet giving the details of changing permissions in Finder and in Terminal. Terminal provides options more powerful that what Finder provides. But it's complicated. I was looking for a free or cheap app to give me full control over permissions and ACL settings for any file on my Mac. I found exactly what I needed.
Introducing PropEdit
PropEdit (USD$5)
UPDATE: The developer of this app is kindly making it available free, as he is no longer developing it. I am using it on Mountain Lion 10.8.3  with no issues, to my knowledge. You can legally use the following key to register it:  0GYF-CMX2-49X3-B1VH-8CA9  – Thank you to Jonas for pointing this out in the comments.
PropEdit is a great tool for doing exactly what I described above. You can do all of the following with it, and more:
Add and remove users associated with a file/folder
Change all flags of a file/folder. Flags such as archive, hidden, No Dump, Opaque, etc.
Edit the ACL (Access Control List) for any file/folder. This is where you can add and remove users, groups, etc., who have access to a file/folder, and specify exactly what rights they have.
Change the owner
I was having issues with a file utilised by the Sparkle update system. I noticed it had something like 5 ACL entries for my user name, and I wanted to remove them and clear it up. Here's a screen shot of PropEdit whilst I was access the file: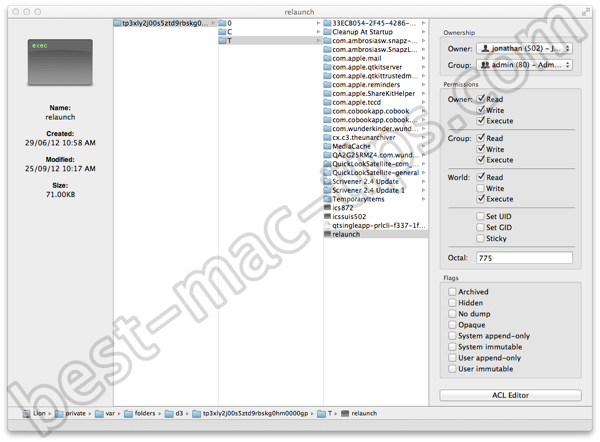 You'll notice the ACL Editor button to the bottom right. That's where I got access to the messed up ACL settings, cleaned them out, and set new ones.
Here is a picture of the built-in ACL editor: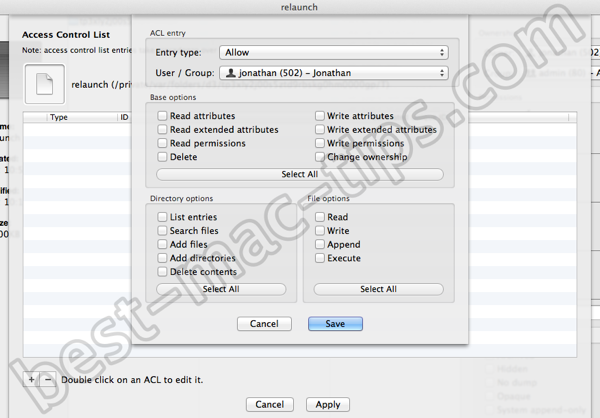 PropEdit does cost $5, and there are numerous free alternatives to perform similar functions. None of the alternatives I tried were quite a polish and comprehensive as PropEdit, but if you only need to do a once-off repair I am sure these free apps will work just fine. Below are notes for apps I tried.
Other Options (all free)
There are quite a few applications providing the kind of functionality I have detailed for PropEdit. Here is a list:
BatChmod (free) – It doesn't have a full ACL editor. But otherwise allows you to clear all ACL settings. It doesn't allow for setting Flags. The following image shows what it can do: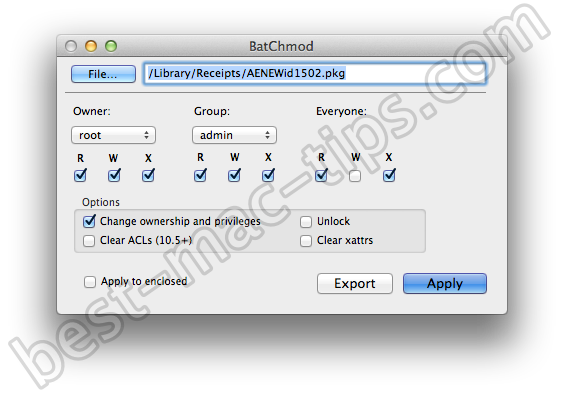 ACL Fix (free) – solely for removing all ACL settings from a folder, file, or batch of files/folders. Nice and simple if you need to resolve ACL issues on folders copied into a system from a backup, for instance.
Sandbox (free) – This app is still not as nice as PropEdit. It does give access to full ACL editing though, and setting of standard permissions. The file browser it uses is not the default Cocao/OS X one, so it is not possible to use the Go To Folder keyboard shortcut. This means if you need to edit a deeply buried file, which you have already located in Finder, you can't simply copy its full path and then use Go To Folder in Sandbox to jump directly there.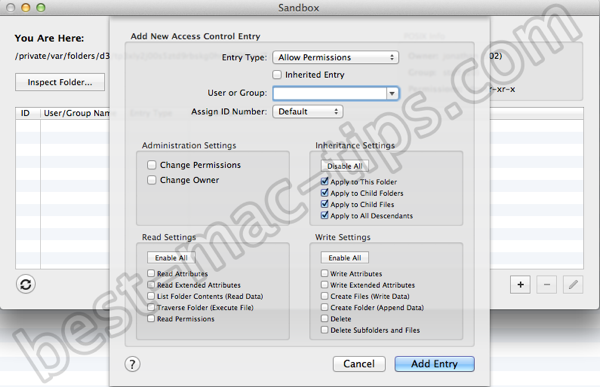 In my experience Sandbox is the best free option. It is almost as good as PropEdit, but without the $5 pricetag. If I was working with file permissions and ACL settings a lot, I would go with PropEdit. But otherwise I'd use Sandbox.
PrivilegeFix (free) – discontinued
Related articles