I only intend to review a select few VPN providers. My interest is in helping readers identity a provider that has decent Mac OS X support, and ideally good iOS and Android support too. Many VPN companies provide nice Windows client software, and then expect Mac users to set up the VPN manually (no client software), or they provide feature-reduced versions of their client software for Mac.
Update May 2021: I've been using HideIPVPN since August 2014, and they continue to provide an excellent service.
This review is of VPN provider HideIPVPN. In the review I will at times abbreviate HideIPVPN to HIPV.
What they offer
The following screenshot gives an overview of the primary features HIPV offer their customers: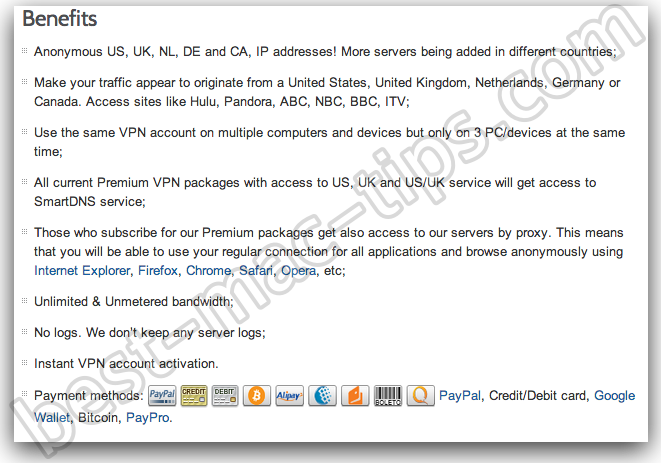 Payment Methods
As you can see in the above image, HIPV provide a lot of ways to pay, including anonymous payment systems like Bitcoin. That may appeal to the people with hard-core concerns about privacy online. Here's the payment option breakdown:
Privacy
HideIPVPN is based in the USA. There are no data retention laws for VPN providers in the USA. They state they keep no logs. Here is some information I garnered on them from the article WHICH VPN SERVICES TAKE YOUR ANONYMITY SERIOUSLY? 2014 EDITION published on www.torrentfreak.com
What follows is HideIPVPN's answers to these eight questions:
1. Do you keep ANY logs which would allow you to match an IP-address and a time stamp to a user of your service? If so, exactly what information do you hold and for how long?

2. Under what jurisdictions does your company operate and under what exact circumstances will you share the information you hold with a 3rd party?

3. What tools are used to monitor and mitigate abuse of your service?

4. In the event you receive a DMCA takedown notice or European equivalent, how are these handled?

5. What steps are taken when a valid court order requires your company to identify an active user of your service?

6. Is BitTorrent and other file-sharing traffic allowed on all servers? If not, why?

7. Which payment systems do you use and how are these linked to individual user accounts?

8. What is the most secure VPN connection and encryption algorithm you would recommend to your users?
The answers…
1. We do not log users' IP addresses. Since we are a company registered in the US we are not required to maintain such logs. Our logs only check account name (this is chosen by the user) and if a connection was established with the VPN server. This is the only way for us to help users in case of technical problems (we can check if there was any connection), also this helps us to refund money if a new customer was not able to connect to any of our servers. This information is automatically overwritten with new data after 3 days.

There is no way for any third-party to match a user IP to any specific activity on the internet.

2. We operate under US jurisdiction. The only way we would share our information is under court order (as would any other company).

3. We would have to get into details of each individual point of our ToS. For basics like P2P and torrent traffic on servers that do not allow for such transmissions or connecting to more than 3 VPN servers at the same time by the same user account. But we do not monitor users' traffic. Also, since our users use shared IP addresses, there is no way any third party could connect any online activity to a user's IP address.

As it would put us and our other user at risk we do not comment on our internal policies in this regard.

4. Since no information is stored on any of our servers there is nothing that we can take down. We reply to the data center or copyright holder that we do not log our users' traffic and we use shared IP-addresses, which make it impossible to track who downloaded any data from the internet using our VPN.

5. We would reply that we do not have such measures that would us allow to identify a specific user.

6. This type of traffic is welcomed on our German (DE VPN) and Dutch (NL VPN) servers. It is not allowed on US, UK and Canada servers as stated in our ToS – the reason for this is due to our agreements with data centers. We also have specific VPN plans for torrent users.

7. We currently accept payments via PayPal, Credit/Debit card, PayPro. Bitcoin acceptance is currently being tested. If it proves popular with our users it will stay with us.

8. We would recommend OpenVPN and SSTP protocols.
Simultaneous connections
You can connect up to three devices at the same time. Each must use a different server though. Many VPN providers allow only one connection, and some provide two. Three, therefore, is fairly generous.
Mac Client Software
Their client software is relatively simple, and yet does the job well. At this stage I can only compare it to the Mac software HideMyAss provide (as of early 2014, not the new improved version they are releasing later in 2014), as that is the only other VPN provider I have tried. HMA has some half-decent (workable, but poorly implemented) features for testing the connection speed to their various servers. It would be nice to see something like that added to HIPV, although as they have only a tiny fraction of the servers HMA does, it is admittedly not as necessary.
The Connection screen: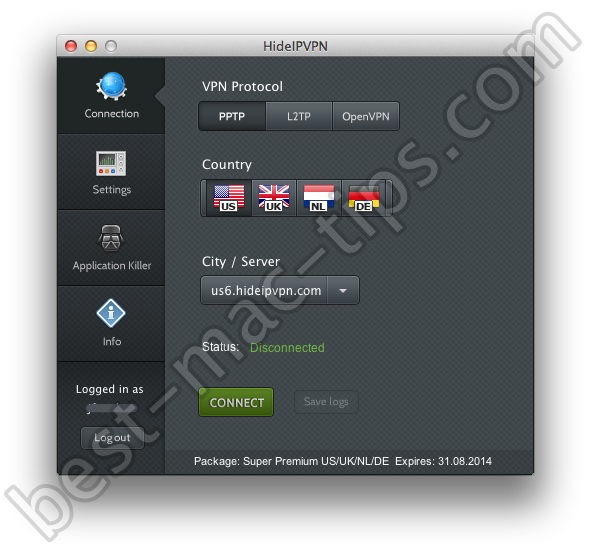 The Settings screen: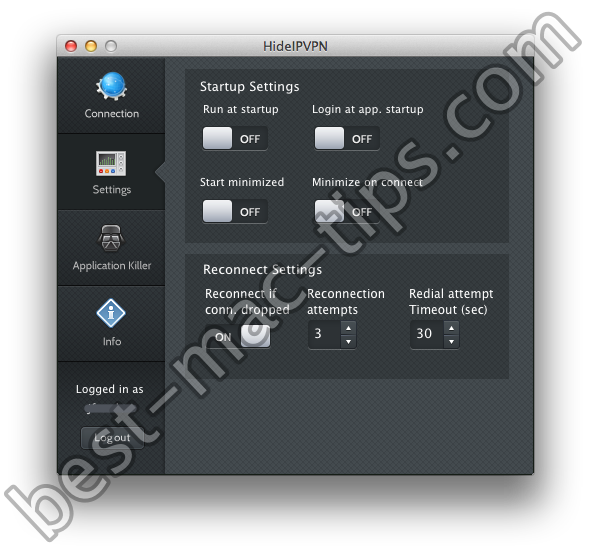 The Application Killer
The next screen of options is an interesting one. There is an Application Killer. This allows you to specify applications that HideIPVPN client will force to quit if the VPN connection drops. It can also restart those applications when the connection is reestablished. This may, for instance, be handy for people who absolutely don't want torrents downloading over an open connection, and only over the VPN. I tested it out with Mail, and it worked perfectly.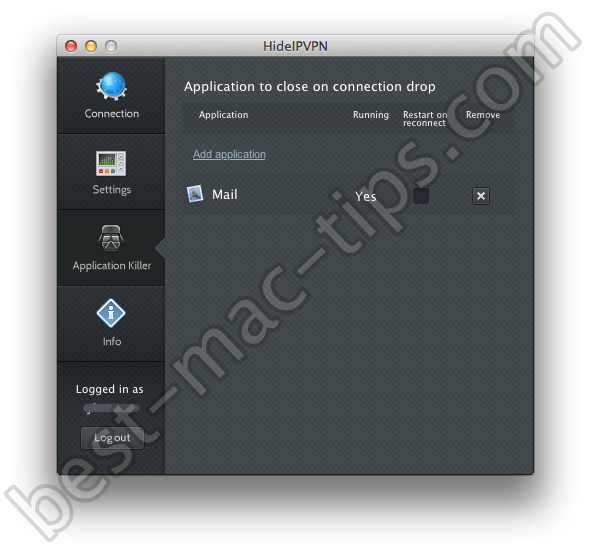 SmartDNS — UK/US Region-restricted Streaming Media
HIPV is great when it comes to accessing streaming media from sources locked to UK and US users only. Of course, when using the VPN to a UK or US server you can access all region restricted media in each of those countries respectively. But HIPV also comes with a neat service called SmartDNS. This allows you to access UK and US content without the VPN connection active. This has a number of advantages. The big one is that many media streaming devices don't provide a way to enter in VPN service connection settings, and most modem/routers don't either. That typically means you can only stream restricted content onto your computer, and perhaps onto a smartphone or pad.
With SmartDNS you can change the DNS settings in your modem/router to the SmartDNS IP addresses. Any and every modem/router will likely support this feature. From then on, all devices accessing the internet via this modem will have unlimited and full-speed access to the content in the UK or the USA (only one, or the other at a time though), and you won't have to many any configuration changes to those devices. They can just operate as usual, and yet access region locked content. I say, "full-speed", because when accessing streaming content over a VPN connection it's highly likely you'll experience a significant speed reduction over your open (non-VPN) connection. But when you're only using the SmartDNS system to access the content, there will be no change in your typical connection speed. This is very cool.
The HIPV web-based client admin system will need to know your IP address. They make it super easy to update this. You can simply access the client admin area and click the UPDATE IP button, or you can just access a special web address (which you can save in your favorites). That address is unique to you, and it will immediately update their system to recognise your IP. For people who travel a lot, and wish to access streaming content back home (in the UK or USA) this will be very handy. When you roll up at a hotel, for example, just click the HideIPVPN Update link you have saved in your browser, and voila. You now have access to the region restricted content back home.
I found the SmartDNS system to be excellent. It is certainly a big plus for people who want to access any of the popular US and UK restricted media services whilst outside those countries. I was able to simply set my modem/router to the DNS addresses provided by HIPV and all devices router through that modem had unlimited access to the US services I tested it with (Amazon Prime Video, and Netflix).
The online Client Area allows for switching Netflix region to UK / US.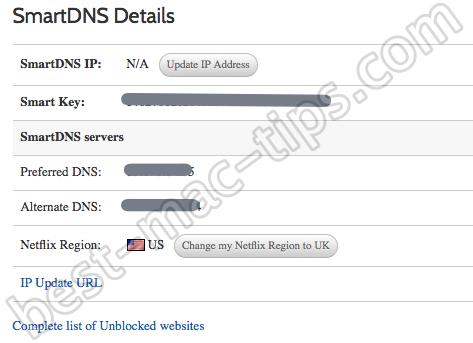 You can view the complete list of unblocked channels here: http://www.hideipvpn.com/smart-dns/?channels=1
As you'll see, it includes pretty much every major player, including Netflix, Amazon Prime Videos, Hulu, Blockbuster, major TV networks, and the major music subscription companies like Spotify, Pandora, etc.
Where there are UK equivalents, they are typically supported too. A number of major Polish services are unleashed also.
Setting up SmartDNS on Mac
You need to register your current IP address with HideIPVPN. There are two easy ways to do this. One is via the client area, although that involves logging in, etc. The other super easy way is to simply browse to a special URL provided to you in the Client Area. You can store this URL as a bookmark for easy access. Any time you change IP address, just browse to that special URL and you're all set.
Implementing SmartDNS can be easily done with the provided client software. But incase you want to use it without having to run the client, here's how to set it up manually:
Create a new Location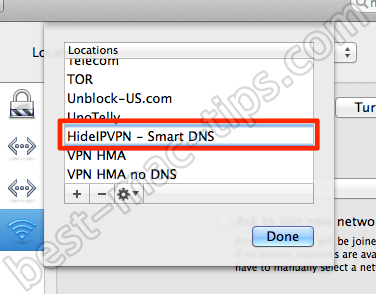 Add the provided DNS servers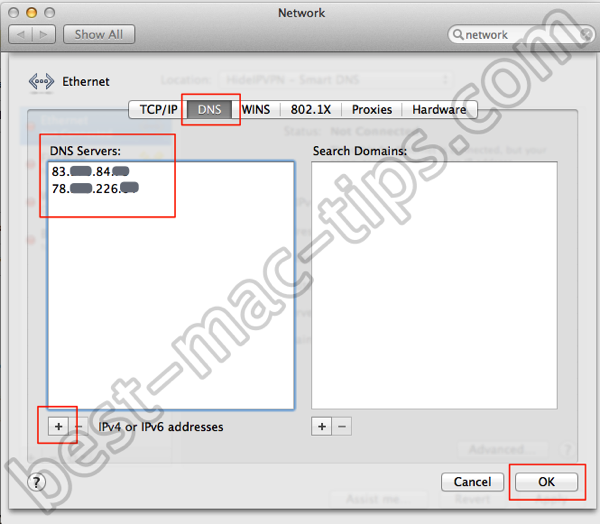 At first I had trouble getting the SmartDNS system to work. I figured out this was because I use DNScrypt, and this was interfering, so it was my fault entirely. Be sure to disable DNSCrypt (and any similar such tools) if you use them, before trying to use SmartDNS. SmartDNS works very well, and gives you your full bandwidth, as opposed to the big slow-down a VPN connection is going to experience (see my test results, from NZ)
Using the HipeIPVPN software for SmartDNS
The simpler way to utilise SmartDNS is using the software. It's a cinch, and works flawlessly.
As mentioned earlier, you can also set up your Modem/Router with the SmartDNS DNS settings, so all devices are covered in one shot.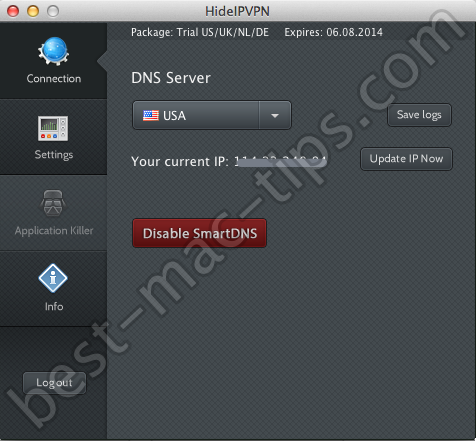 Speed Test Results
Here are the results of some speed tests I performed in Auckland, New Zealand, with each of the servers. There are three VPN protocol options: OpenVPN (generally considered the most secure), L2TP (also considered to be relatively secure), PPTP (the least secure, but the fastest). In most cases I ran the test three times in each location with each protocol, and have provided an average figure from the three results. In some cases I may just list the results one after the other… 150 | 130 | 133 ms (for example). I used speedtest.net for all tests.
Speed without VPN
31.64 Mbps down
9.72 Mbps up
31 ms latency (ping)
VPN speeds with OpenVPN
NZ to US1 (Westland, Michigan)
1.94 Mbps down
1.88 Mbps up
330 ms latency
NZ to US2 (California)
2.94 Mbps down
1.30 Mbps up
271 ms latency
NZ to US5 (Vineyard Haven, MA)
1.94 | 31.64 Mbps down
1.88 Mbps up
330 ms latency
NZ to US6 (California)
2.78 Mbps down
2.60 Mbps up
191 ms latency
Another test a week later, same server
2.30 Mbps down
2.46 Mbps up
328 ms latency
NZ to US8 (Wisconsin)
1.66 Mbps down
1.81 Mbps up
260 ms latency
NZ to DE1 (Germany) – Couldn't run OpenVPN test on first two connection attempts. Would disconnect after a few seconds with an error, telling me to try another server. It caused the client to crash on the first attempt. Third time lucky, it stayed connected.
 1.17 | 1.21 Mbps down
 1.20 | 1.34 Mbps up
 455 | 649 ms latency
NZ to UK2 (Client crashed on first connection attempt with OpenVPN. Disconnected on second attempt, and third)
NZ to UK4
1.13 | 1.37 Mbps down
0.63 | 0.47 Mbps up
510 | 311 ms latency
VPN speeds with L2TP
NZ to US1 (Westland, Michigan)
4.41 | 6.87 Mbps down
2.31 | 2.18 Mbps up
240 | 240 ms latency
NZ to US2 (Ca)
10.35 Mbps down
5.57 Mbps up
190 ms latency
NZ to US4 (Winneconne, Wisconsin)
12.94 Mbps down
3.07 Mbps up
212 ms latency
NZ to US5 (Vineyard Haven, MA)
11.09 Mbps down
7.41 Mbps up
180 ms latency
NZ to US9 (Texas)
11.40 Mbps down
5.33 Mbps up
233 ms latency
NZ to DE1 (Germany)
7.54 | 8.08 Mbps down
1.67 | 1.83 Mbps up
322 | 322 ms latency
VPN speeds with PPTP
NZ to US2 (California)
6.47 | 5.30 Mbps down
3.38 | 3.99 Mbps up
187 | 169 ms latency
NZ to US6 (California)
4.41 | 5.40 | 5.19 Mbps down
3.37 | 3.42 | 3.49 Mbps up
170 | 190 | 189 ms latency
NZ to DE1 (Germany)
 3.92 | 3.52 Mbps down
 1.69 | 1.62 Mbps up
 298 | 299 ms latency
NZ to UK2
4.58 Mbps down
1.62 Mbps up
279 ms latency
Test results provided by HideIPVPN
Using PPTP VPN connection
9.66 Mbps down
2.55 Mbps up
211 ms latency
As you can see, these results are not much quicker than mine from NZ.
14.99 Mbps down
3.14 Mbps up
156 ms latency
VPN speeds with SSTP (manual configuration, mostly supported by Windows, although you can get a Mac free Mac client for SSTP called EasySSTP)
NZ to us1.sstpcon.com (Beeville, Texas)
0.66 Mbps down
0.28 Mbps up
250 ms latency
SSTP practically came to a standstill, and was not worth using at all.
IP suspicion issues
At least some (and I don't know how many) of the HideIPVPN IP addresses are identified as suspicious by Google, and perhaps other services. For instance, when performing searches on Google I would often be prompted with a captcha test, like this: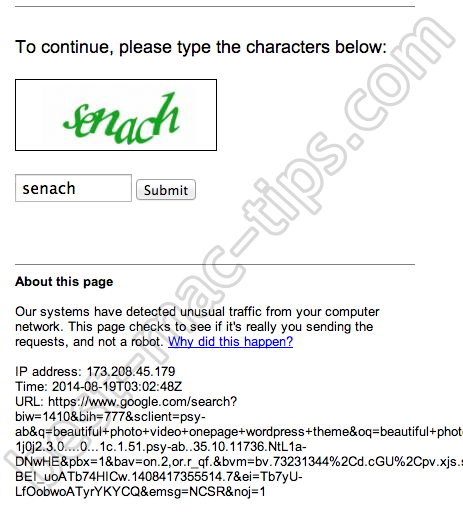 It's a bit of a pain, but it's quite possible other VPN providers face the same issue. There are no doubt people do all sorts of dubious things over VPN connections. So dealing with things like this captcha on Google might just be the price we pay as private VPN users.
There is obviously quite a bit of traffic passing through each IP address. This can be advantageous when it comes to anonymising your connection, but a nuissence when using sites that have IP restrictions. For instance, I tried downloading a file from turbobit.net and was informed, "CAUTION! From your IP range the limit of connections is reached"
Strangely, even the HideIPVPN online client interface would block access when coming from a number of their own VPN connections. Not all of them, but enough that I'd often have to disconnect whichever VPN connection I was using before I could access the client area during my review process. It would present me with the following error:
Your IP (199.58.86.237) has been restricted from accessing the Client Area.
Why: Banned due to Orders
Not a major issue. It just comes across to me as a lack of attention to detail on the part of HideIPVPN administrators.
Torrent Test
Torrents are meant to be run through the Netherlands servers. However, I found the first time I tried, they kept dropping my connection every few minutes. I was using PPTP to maximise the speed. So I tried the German servers, and the speed was okay (I didn't record it that first time).
On my second attempt (a few weeks later) the same thing happened. I tried PPTP on NL2 and it kept dropping the connection. I got an error saying to try another server. I tried NL5, and it wouldn't connect at all. After that the client app wouldn't connect to any NE or DE. I had to close the app, and reset my networking settings, and try again. Basically I tried all the Netherlands servers and, in my experience, they were unusable for torrents, and perhaps for anything at all.
I was able to torrent over a DE (German) server. Using PPTP it went along at about 300 KB/s, but then after a minute or so it dropped the connection. It reconnected and stayed up long enough to download the file.
For this test (in order to mimic what I imagine other users might do) I just grabbed a popular movie from thepiratebay.se with a high number of seeders. In this instance it was the movie with the third highest number of seeders. It had 13500 seeders, and 5600 lechers. It was a 758 mb file, and took 20 minutes to download the first 284 mb. I turned it off at that point. That including the 5 minutes, or so, messing around with the NL server issues. I then switched to DE3, resumed the torrent, and the speed shot up to around 550 to 700 KB/s. It eventually got up to over 800 KB/s. This was almost as high the torrent speed over my direct (no VPN) connection.
The torrent completed in 32 minutes. If I hadn't tried to deal with the NL servers, and just used the DE3 server, I'd say it would have completed in around 20 to 25 minutes.
Over my direct connection the torrent was peaking around 1 MB/s, and hovering up and down around 800 KB/s.
Speed Test Conclusion
I found the speed results to be rather disappointing, especially the OpenVPN results. It's my preferred VPN protocol, and it is generally considered to be faster than L2TP, whilst providing excellent security. Keep in mind I've run all these tests from NZ, so the results may improve if you are in the country where the server is. It's also worth keeping in mind that for browsing most websites, a connection above 3 to 5 Mbps really doesn't make a lot of difference to the end result. And because HIPV provide the SmartDNS system, you can access all high-bandwidth region locked media sites over your direct connection (at full speed).
The experience with torrenting a popular video was also disappointing, although it did work.
Location of US servers
Some people may want to know if there is a server close to them, so I made a note of the location of the US servers. In the UK all the ones I checked where in the London area, as far as I could tell (I didn't pay too much attention).
US9 – Texus (exit node registered to Leaseweb USA)
US8 – Wisconsin (exit node registered to Nobis Technology Group, LLC)
US7 – Manila (Phillipines)
US6 – Valencia, CA
US5 – Vineyard Haven, MA (exit node registered Nobis Technology Group, LLC)
US4 – Winneconne, Wisconsin (exit node, Nobis Technology Group, LLC)
US3 – New Castle, Pensilvania
US2 – Valencia, CA (exit node registered to Quadranet)
US1 – Westland, Michigan (exist node registered to Leaseweb USA)
Client Support
The few times I tried to use the support Chat system, but each time it simply said: Thank you for your patience when waiting for Live Help, we apologize for any delays that you may experience. After 10-15 minutes, or so, I'd close it.
I sent only one support ticket, when I was initially having issues with the SmartDNS system. A few minutes later I figured out CryptDNS was the cause of the problem, and I updated the ticket letting them know. I didn't receive any reply to the ticket. Not even a courtesy response to say, "We got your ticket, glad you figured it out, let us know if we can help with anything else whilst you're getting things set up"… or that sort of thing. That's the level of customer service I've come to expect these days, although it's not strictly necessary. It just indicates to me there's a possibility the support system may be understaffed, or not particularly friendly.
Update: For the sake of testing out customer support, I raised another issue. I was having trouble authenticating over a third-party OpenVPN client (Viscosity and Tunnelblick). During normal business hours (I am not exactly sure which time-zone though) they are responsive, and seem willing to help resolve issues.
Price
HideIPVPN are certainly not the cheapest VPN service out there, but by no means the most expensive. There are other provides who provide a lot more servers around the world, for a similar price. Although in all honesty, in my experience, have a local server may not make a lot of real-world difference to your browsing experience. So long as your VPN connection is doing at least 4 or 5 Mbps, should should be fine. HIPV achieved that in most cases.
As they have a lot of different package options, I'll provide a screenshot for the pricing (rather than typing it out).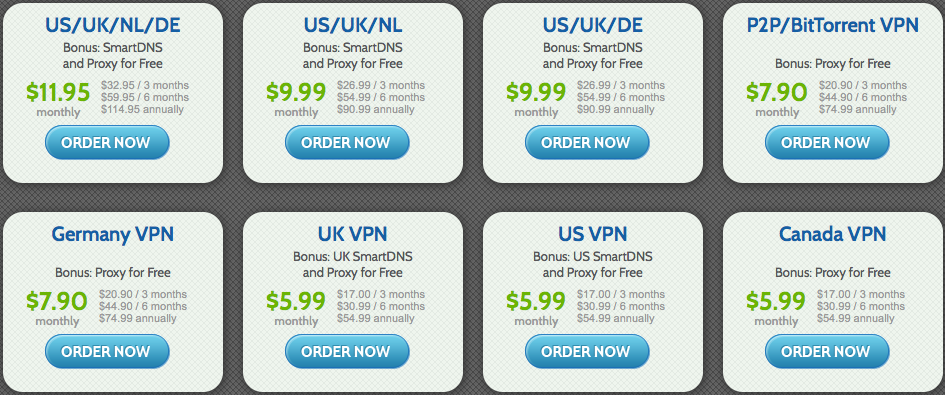 Improvements?
It would be useful if the Software and Client Area indicated the exact location of each server (such as what city/state it is in). That would make it easier to choose a server that's closer to home.
I would like to see more servers available (especially in the Southern Hemisphere), with better speed on OpenVPN. Poor OpenVPN speed is my main complaint. However, unless you need highly (aka potentially NSA/CIA/FBI-proof) secure private Internet access, OpenVPN is not strictly necessary. For most people L2TP will do the job and, as mentioned, the OpenVPN speeds I experienced were still more than adequate for general web browsing.
Something needs to be done about the Netherlands servers.
Overall Conclusion
Overall I think the VPN service is decent.
The SmartDNS service is excellent for UK and US region-restricted media streaming.
Client installation for VPN and SmartDNS on Mac is easy, and it works well for the most part (aside from the issues I faced with the NL servers).
The VPN connection is relatively slow on OpenVPN in my opinion, and as that's the protocol I prefer to use, that's a bit disappointing. However, PLEASE NOTE it was absolutely sufficient for browsing the web and doing most things a general Internet user might do, without any significant delays. When total privacy is not a concern, then L2TP was certainly fast enough, and that's the next best VPN protocol in terms of privacy.
Would I recommend the service? Absolutely. I think it will suit most Apple Mac users, and people using Android and iOS devices.
They have a three-day money back guarantee, and a free one-day trial. So I'd suggest trying that out and seeing how it goes for you. I am pretty certain you'll be happy with it.
Yes, we have. We offer 3-days money back guarantee. If you can't connect to our VPN servers, you can ask for a refund within 3 days. Note that we do not refund for speed issues because we have 24 hours Free trial account on our premium servers. Read more in our TOS
Try them out yourself
The HideIPVPN banners in this review will take you to their site. They have a free 24 hour trial, which is what I would recommend you start out with. I am sure you'll be satisfied with the experience.

Disclosure
After a full month of testing their services in order to write this review, and determining I am happy to recommend HideIPVPN to my readers, Best-mac-tips joined their affiliate program. If you access their site via the HideIPVPN banners above (or this LINK) I stand to earn a 15% commission if you sign up for an account. This helps provide me with a small amount of income for this free Mac Tips site. Thank you for your support. Please note, I only joined the affiliate program because I noticed they had one whilst I was digging up info on them whilst finalising the review. As is the case with all my reviews and articles, this review remains unbiased and is not commercially motivated.