For about 4 years now I have been using a service called LocalPhone. For people who travel a lot and/or make a lot of international calls to and from a range of countries, it's an excellent service.
LocalPhone provides very low rates for phone calls and text messages. When you turn up in a country, the LocalPhone provides you with a local number from which to call your contacts anywhere in the world, at cheap rates.
The also have a call-back service, where you call a local number, then hang-up. You'll receive a call to your phone, providing a dial-tone from which you can make international calls.
There's also an option to buy local phone numbers in a long list of countries and states. Generally the cost is low… like perhaps a $1 or so per month. Let's say you have clients in a foreign country, for a few dollars a month you can provide them with a local number to contact you on. You can then decide if you pay the low incoming call costs, or whether you pass those on to the client (as part of your service invoice, or by simply incorporating it into your hourly rate). Calls between many countries is just cents per minute.
They have a desktop app for OS X, and an app for iPhone and Android.
If you want to check them out, everything is detailed on their website, here. There's also more info below:
Cheap Rates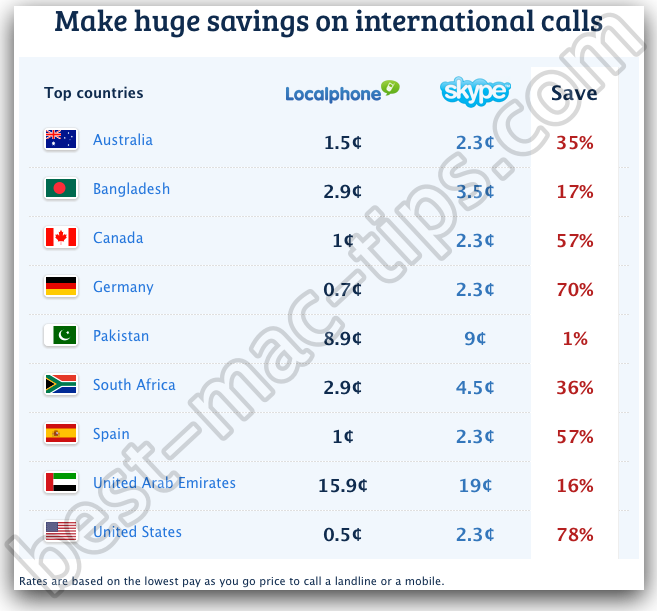 Here's an overview of the features:
iPhone App (and Android)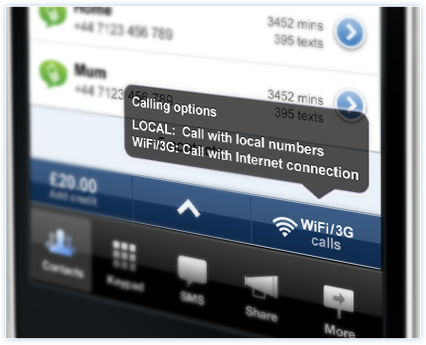 Our iPhone app lets you call and text on the move at our low international rates
LOCAL calls mode
When you first launch the app it will be in LOCAL calls mode – your calls will be made using a local number which connects to your international contact.

You'll pay our low rates plus your mobile provider's local rates. These calls are usually included in your free minutes.

WiFi / 3G calls mode
New! Now available for iPhone, iPad and iPod Touch
Tap the call mode button to switch to WiFi / 3G mode and calls will be made using your Internet connection. The app will use WiFi when available and 3G when you are out of range.

The app is 4G ready and will use 4G (LTE) technology if it is available on your phone giving you high-definition voice quality.

All you'll pay to call is our low rates – there are no local charges using this calling mode.
Desktop (OS X) app
You don't need a phone line

Stay in touch anywhere in the world using your computer

Same low call rates as our other calling services

Access our cheap rates using your broadband connection

Save your contacts for quicker calling

Use our Internet Phone app to manage your contacts

Other Internet Phone users can call you for free

Just give them your Internet Phone number to call you on
We'll give you a unique local number for each of your international contacts. Save these numbers to your phone to call your friends abroad cheaply.
Call from any mobile or landline
Really cheap international call rates
Only pay for the calls you make
Great call quality
Get straight through with no PINs or re-dialing
Smartphone apps
Call and text from your iPhone or Android phone to over 250 countries at our low rates. Our apps dial local numbers to connect the calls internationally.
Available for Android and iPhone
One click calling
Clear call quality
Keep in touch by text
Download our Internet Phone to call overseas from your computer for less. Or, you can use your own VoIP device to access our low rates.
Call from your computer or VoIP device
Works anywhere in the world
Low cost calls using your broadband connection
Call other Internet Phone users for free
Option to call from your own device
Keep in touch by sending text messages from our website from just 1¢ /message. The message will appear to have come from your phone.
Send international texts
Save money on texting friends abroad
View your conversations online
Send texts from different numbers
Save time and money by adding one local rate Calling Card number to your phone. Just call it then re-dial your full international number.
Access our rates on the go
Local-rate Calling Card number
No connection charges
Speed dials for quicker calling
Rent a landline number from one of over 50 destinations then forward the calls to your phone. Or, answer the calls using our Internet Phone and talk for free.

Friends abroad can call you

Rent an international number
Contacts can call you at local rates
Forward the calls to your phone
Perfect for international businesses

Dial the Callback number then hang up, we won't answer so you won't be charged by your operator. We'll call you back to connect you to the international number at our low rates.

Works anywhere in the world

Free Callback number
Works where local numbers aren't available
Great for pre-paid (PAYG) customers
No Internet connection required

Call from your mobile without using your minutes by initiating the call on our website. Your phone will ring – just answer to be connected to your contact.

No need to dial a local number
Perfect for pre-paid mobile users
Clear call quality
Works anywhere in the world