I've never been totally satisfied with Apple Address Book. It's hard to say why. It pretty much does its job okay, but it always gives me the impression the developer team at Apple have little to no passion for the Address Book. So ever since moving to Mac, I've been keeping an eye out for Address Book alternatives. I feel the same away about iCal, and pretty quickly found and switched to BusyCal (even though it cost more than the $0 price tag on iCal).
Right now the only serious contender I've found as a replacement for Address Book is a relatively new app called Cobook. It's at version 1.0 and could still do with some work—however it's still fully functional as useful as it is.
UPDATE: I've now spent a few days using this application, and it's much better than I first thought. It's actually REALLY excellent. Hard to believe it is free. I was expecting to have to pay for a decent Address Book replacement.
Improvements… For instance, it's accessible only through the menu bar, which makes it a pain to use along side or at the same time as another application. Switching focus to the anything else will cause Cobook to vanish from view. Not at all handy if you want to manually copy address data over to another application. However, that's not as bad as I've perhaps made it seem.
Scratch that above comment! In the Cobook menu there is an option to Anchor to Menu Bar. Un-ticking that will make it a free floating application, and it is then possible to have it position on your screen along side whatever else you are working on. Cobook is getting better by the minute—the more I check it out and figure out what it's capable of.
Having it anchored to the menu bar does otherwise makes it quick and easy to look people up. There's also a shortcut option — the default is Shift-Control-Space. So referring back to what I said about using Cobook along side another application which its anchored to the menu bar, it is just a matter of using the keyboard shortcut to bring Cobook back into focus, and yes, it will remember what contact you were focused on, etc.. Whether anchored or not, it can be instantly called up with the keyboard shortcut, and in both cases it will remember what you were viewing (which contact, which search, etc.).
Here's a snapshot of what it looks like when not anchored to the menu bar.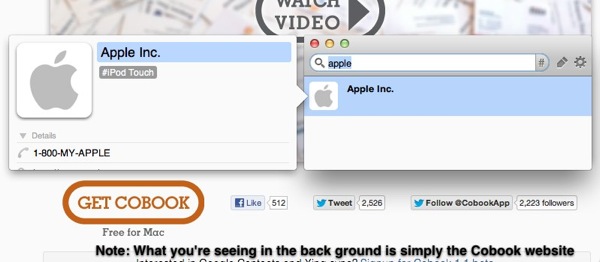 Cobook also makes copying addresses, for instance, very easy (although the newer versions of Address Book do also). Just Control-click (or two-finger click, right button click — depending what kind of pointer device you use) on an address and the context menu will appear. The one and only option in that menu is "Copy". Hit that and voila, the address is copied onto the cilpboard ready for pasting somewhere else. And it will paste in the exact layout it should be in. The snapshot below shows how it looks and what I mean about copying an address, for example.

Here's the way the address comes up when pasted:
1 Infinite Loop
Cupertino CA 95014
United States
It doesn't put the contact / company name at the top of the address and I think where should be an option for that. For instance, the address context menu Address Book has an option called "Copy Mailing Address" (along with Map this Address, and Copy Map URL), as shown below in the snapshot of Apple Address Book: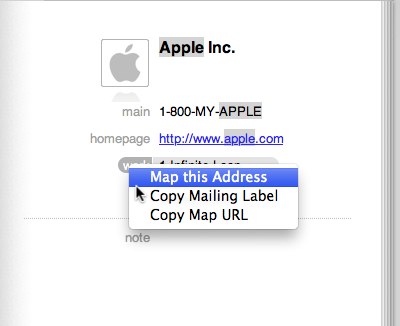 Copying the address gives this result when pasted:
Apple Inc.
1 Infinite Loop
Cupertino CA 95014
United States
Since you can still use Address Book, I don't see this being a problem, but it would be nice to see more functionality added to the context menus in Cobook.
The other feature that might appeal to those who are heavily into social networking is that Cobook can be configured to access Facebook, LinkedIn, Twitter, and Google Voice. It will then synchronise your contact details. I did read in a review, however, that this can cause your contacts to be deleted if they are in your address book but not on Facebook (for instance). I have not tried connecting Cobook to my only contacts because I don't want to run that risk. Here is what that review had to say:
by Patrick Smith

I thought this would be a cool app, I mean, the parts it's supposed to do, it does well. But contacts in my address book that it could not find on Facebook, it REMOVED their photo! And some contacts it matched with the wrong person on Facebook. I think it is close to being a great app, just not quite there yet. I've uninstalled it. I run a small photography business and my address book has a little over 300 contacts and this app ruined the profile photo of nearly half of those because it couldn't find them on Facebook. I think if it can't find the contact, it should LEAVE IT THE WAY IT IS!
Cobook otherwise gets very good reviews and between a four and five star rating on the App Store.
One has to also be aware that syncing with online data sources will mean you lose control of what data you have stored in your offline Address Book. If a contact's info changes online (their photo, their phone numbers, etc.) you may find that data changing in your offline address book when you didn't want it to.
You can view it here on the App Store.