In Microsoft Outlook and Outlook Express the address labels To, Cc, and Bcc are actually buttons. Clicking any of these will display your Contacts. You can then select contacts to be inserted into the relevant address field on your message. In Apple Mail it's done a littler differently.
If you already know the name of the person you are addressing, simply start writing their name. Their email address(s) will appear as you type and you can select the one you want. The following screen shot shows the buttons I am referring to.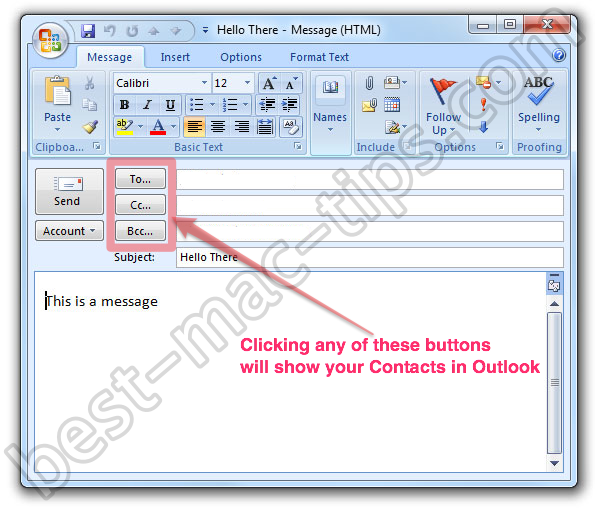 If you don't know all the names or simply wish to pull them out of a visual list, you need to click the button with a black headshot icon on it. I've outlined it in the following screen shot.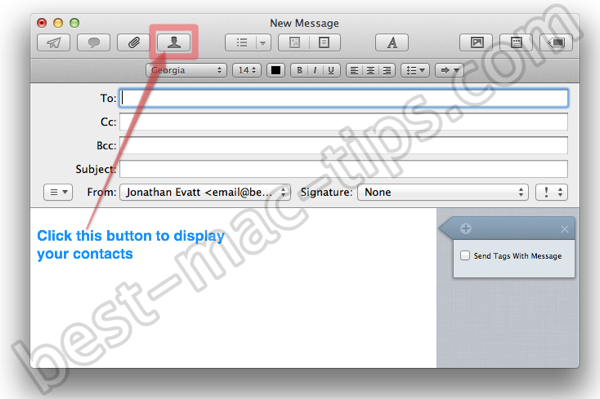 The next images shows you what will pop up when you click the button in the above image:

You can simply drag the contacts over to your new message. Or you can hit the To, Cc, or Bcc buttons in the Addresses window. If a contact has more than one address, select their name from the Name column, and then select the email address you want to send to in the Email column. Then then click one of those three buttons mentioned.
That's it.