Apple provides no direct way to create HTML signatures. Seems like a major oversight to me. People want them, and use them, but on Apple Mail we have to hack at files to create them.
I was going to write a post on How to create HTML signatures in Apple Mail yet discovered Matt Coneybeare has made a fine tutorial. Here's his post and instructions
There's another set of instructions here. Although I prefer Matt's.
Additional tips for Mail signatures:
Assigning signature(s) to multiple accounts
If you have multiple signatures and multiple email accounts in Apple Mail.app (as I do) you can add each signature to each email account by simple dragging them from the list on the middle panel to the accounts in the left panel (see pic below).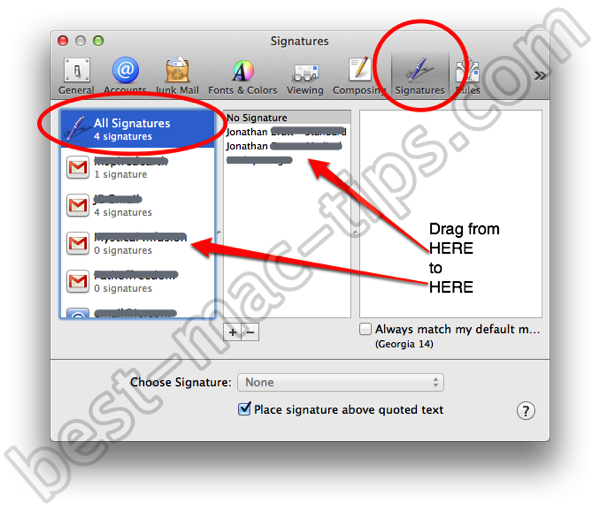 Here you can also select what you'd like the default signature to be for each account. As demonstrated below: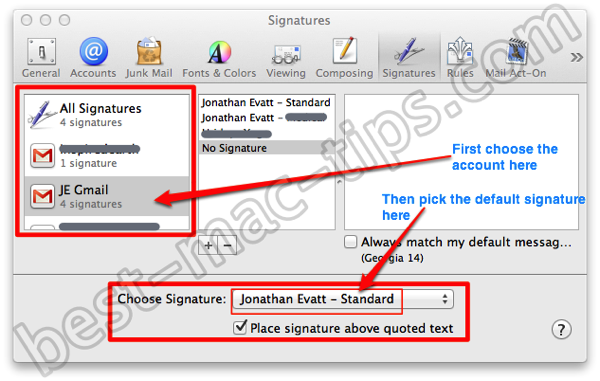 In the above picture, you'll see you can also select whether the signature goes above or below quoted text.
Selecting signatures when composing emails
In a new message window, you can also select which signature you'd like to use on a message-by-message basis: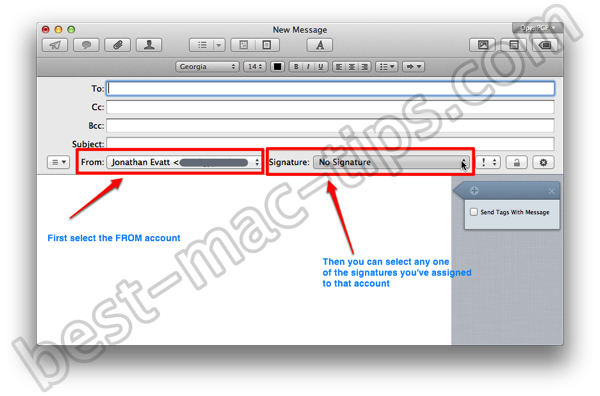 Assigning keyboard shortcuts to Mail signatures
You'll notice on my signature list there are keyboard shortcuts associated with each signature. I've also made a signature called "No Signature". I did that because I found that sometimes the shortcut for "None" (which is in the list, at the top, by default) wouldn't always work. See below: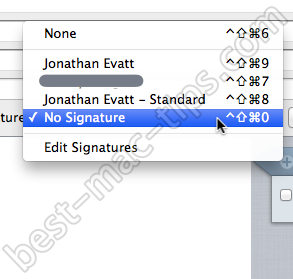 You can add these keyboard shortcuts using the Keyboard options in System Preferences. All the key elements have a red box around them. The main thing is that the Mail command is just the name you gave to the signature. It has to be specified exactly, including capitalisation.