It's not uncommon for the internal Bluetooth on MacBooks (and even Mac desktops) to have issues. Sometimes this occurs after the computer comes out of sleep, or when connecting/disconnecting a Bluetooth device. It can also occur when you have numerous USB devices plugged in.

My MacBookPro periodically loses Bluetooth entirely. Hovering the mouse over the Bluetooth icon in the menu bar will say, "Bluetooth: Not Available". The Bluetooth options icon completely vanishes from System Preferences. So there's no way to try turning it off and on.
I've written a few articles on ways to try and fix these issues. But in many cases it might be a better option to just install a new Bluetooth adapter. If your Mac currently only supports Bluetooth 2.0 or 3.0, the added bonus is you'll get upgraded to Bluetooth 4.0. It's more reliable, more energy efficient, has better range, and various other benefits. 
There's only two USB micro Bluetooth adapters I know of that reliably support Mac OS.
The Smart Bluetooth 4.0 Adapter for Mac and Windows is one of the few that are MacOS compatible. The product is claimed to be compatible with MacOS 10.7, MacOS 10.8, MacOS 10.9, MacOS 10.10, MacOS 10.11, MacOS 10.12, MacOS 10.13, MacOS 10.14, MacOS 10.15. Basically every version of MacOS since 10.7.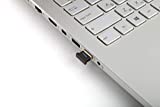 This adapter is very compact, as seen in this photo.
Note: You may need to follow the instructions at the end of this post to get your Mac to use an external adapter. 
I see people with Mac Minis are reporting in the Amazon reviews that this adapter works as soon as they plug it in. So chances are you won't need to make any other changes to your Mac Mini with this USB Bluetooth adapater.
This adapter, Avantree DG80 Bluetooth 5.0 USB Audio Adapter (Audio Only) claims to work on Mac. But there's currently no reviews stating this, nor any Questions & Answers where this is discussed. Also it only works for audio devices (no mice or keyboards, for example). So it's good only for Bluetooth headsets and speakers.
Note: You may need to follow the instructions at the end of this post to get your Mac to use an external adapter. 
The manufacturer of this adapter expressly states it is not Mac compatible. It's called, Avantree DG40S USB Bluetooth Adapter, and it's available on Amazon. I have, however, seen numerous people reporting online that it worked on their Mac, and there's also peoepl saying the same in the Amazon reviews. So buy this one at your own risk. I'd suggest searching online to see if you can find anyone with your particular Mac computer saying it worked.
Note: You may need to follow the instructions at the end of this post to get your Mac to use an external adapter. 
How to make your Mac use an external Bluetooth adapter
Because your Mac still has its internal Bluetooth adapter, you'll need to make it switch over to the external USB Bluetooth adapter. There's a couple of ways to do that.
One involves using software called Bluetooth Explorer (BTE). Apparently it works with numerous other adapters or dongles. For most users it's going to seem rather complicated getting Bluetooth Explorer onto their system. It comes as part of Apple Xcode, which you need to set up an Apple Developer account to access. What's more, you will need to use BTE to perform the handover to your external BT adapter every time you restart your computer. That's not my cup of tea, but if you want to go down that path there's a great article here that explains how to do it.
Another option is to apply the following command in Terminal.app:
sudo nvram bluetoothHostControllerSwitchBehavior=always
It will prompt you for your password. Enter that. Then restart the computer.  Under most circumstances it will remain active after restarts, although I seem some people reporting online that sometimes it does not (perhaps after a failed shutdown or system crash).
To undo this change use the following command in the Terminal.app:
sudo nvram -d bluetoothHostControllerSwitchBehavior